No matter what industry your company is in, or who your target market is, the goal of any customer interaction is to foster a relationship that converts to revenue. In today's digital landscape, customers' expectations have elevated to instant yet personalized feedback to their questions at the click of a button. While this seems like an impossibly daunting task, it has become an expected digital experience with the help of technology. Artificial intelligence-powered live chat, chatbots, and messaging apps have all helped companies achieve this blend of efficiency and customization. Below, we dive deep into the power of conversational marketing and how to implement the right strategy for your business. 
What is Conversational Marketing? 
In its essence, conversational marketing is a series of one-to-one interactions in real-time across multiple channels. Conversational marketing enables you and your team to foster relationships with both potential customers and existing customers, improving overall online customer experience and brand perception. A successful conversational marketing strategy ensures your customers feel satisfied and supported in all their questions, and trust your brand throughout every stage of the sales funnel.  Additionally, as we know, data is a powerful tool, and utilizing conversational marketing technology can increase that amount of data allowing you to tweak your strategy and increase conversions. Every conversation could be considered a mini focus study and learning experience for how to continually improve your business.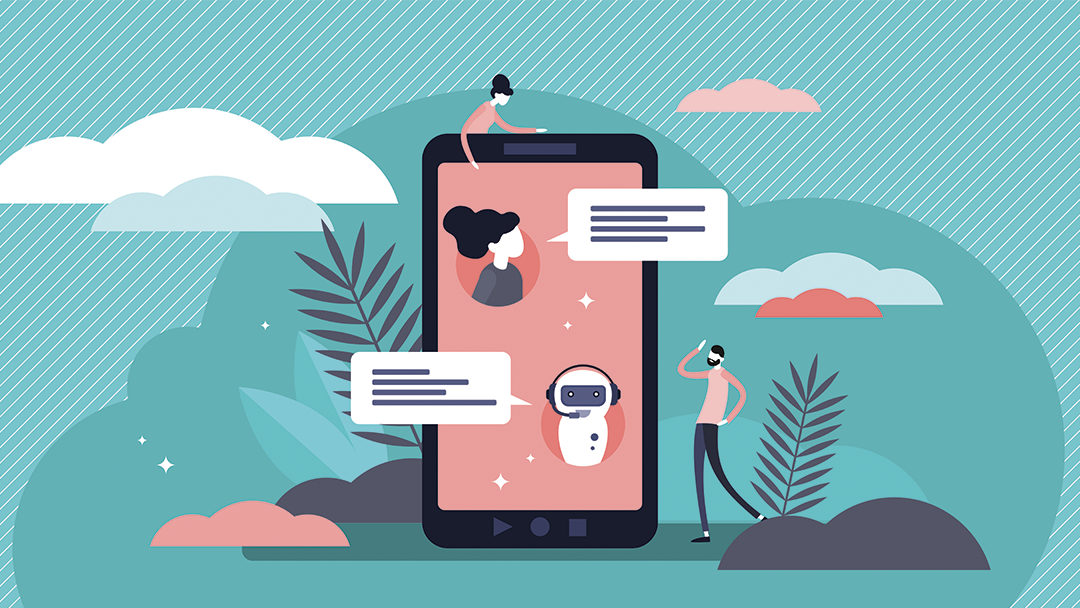 Chatbots
As your business scales up, so will the number of questions from prospective and existing customers. That being said, there will come a time when it is simply not feasible to increase the number of sales representatives you have to answer every question that comes in via your website. That's where chatbots come in. Chatbots have become the go-to conversational marketing tool for a lot of businesses. Platforms like Drift, which integrate seamlessly with your existing website make chatbots a very easy and effective way to up your conversational marketing efforts. Chatbots are very effective when it comes to easing customer pain points quickly and provides a visual cue of reassurance upon landing on a web page that support resources are readily available. Pre-programmed answers to frequently answered questions allow you to talk to your customers, regardless of the time of day. This is especially beneficial for businesses with an international reach, as customers outside your local time zone will always feel supported. If the query is too unique to respond with a canned response, chatbots can connect the customer with a live representative who can better answer their questions. Plenty of conversational marketing platforms enable businesses to identify which leads are most likely to buy and then move them to the front of the line.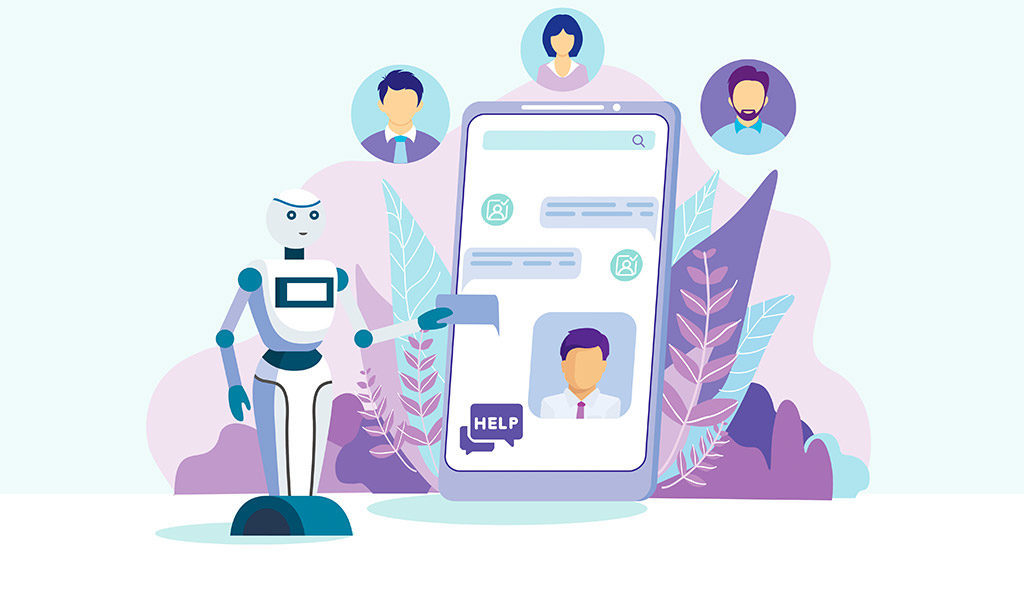 Customer Feedback
Pulling data from your chosen conversational marketing tool on customer engagement will only get you so far. At the end of the day, you'll need to gather feedback from your customers, asking them their thoughts on how to improve the customer and prospect experience on your site. This will not just enable the customer to feel that they have a say but also will help in the optimization of the tools after some time. Adding a quick feedback survey to the end of a chatbot or live chat conversation will go a long way in improving customer satisfaction. 

How to Get Started
Implementing a successful conversational marketing strategy starts by choosing the web pages where you want your conversational bot to engage with your visitors. Sometimes it makes sense to have a constant chatbot available on every page, at all times. Other times, and especially when utilizing live chat versus a chatbot, it pays off to choose the pages that get the most traffic, have the most conversion opportunities, or have visitors with a high intention of buying. This will help maximize the number of interactions you enter into, and the likelihood of success of those interactions. Now that you've decided where you want to speak to your customers on your website, it's time to define what kind of information customers will ask for, and how in the simplest terms you can provide them with that information. As a general rule of thumb, try to keep the conversations simple. Your customers will expect the interaction with your company to be smooth and want to get answers and guidance quickly.
Regardless of the size of your company, having a conversational marketing strategy is key to increasing customer satisfaction and therefore revenue. Are you looking to begin your conversational marketing strategy but not quite sure where to start? Contact Bluetext and see how we can help.
New year, same buzzwords. We're all familiar with the phrase "machine learning", but finding a practical application for it that supports your business model is another story. The key to effective digital marketing campaigns is taking full advantage of emerging technologies, and if you're looking to increase your marketing team's productivity and efficacy, look no further than machine learning. From paid media campaigns to search marketing strategies, recent machine learning enhancements have skyrocketed its digital potential. As brand marketing becomes more closely integrated with performance marketing, introducing ML to your digital marketing strategy is an effective way to assist your team on both fronts.
According to Google's Chief Search Evangelist, "The future of brand marketing is digital, and it's automated. As a brand marketer, if you can start thinking like performance marketers when it comes to KPIs, measurement, and budgets, you'll be poised to win." 
Looking for ways to get started with machine learning in your marketing processes? Here are a few ideas:
Introduce personalization at scale.
Personalized advertising is a tried-and-true success tactic, and machine learning makes personalization at scale easier than ever. Whether you're personalizing for 100 users or 100,000, AI makes the process quick and effective. Better-targeted ads, personalized messaging, and individualized user journeys are just a few ways that ML can boost your brand.

Leave the bidding to the machines.
Free up your team's time by handing off PPC management to a tool like Google Smart Bidding. With automated bidding, your team can focus more on strategic planning and goal-setting instead of cent-by-cent differences.

Implement a chatbot on your website.
Chatbots are simple integrations that can have a major impact on the conversion rate of your site. The best chatbots use AI to make the customer's journey as simple as possible, guiding them to the right information or product with minimal back-and-forth. Trusona uses a pre-populated chatbot, so users don't have to lift a finger to type a response; they can simply choose from the options presented.

Iterate, optimize, and iterate again.
Iteration is one of the greatest strengths of processes that use machine learning; rapid analysis of digital performance means that your team can respond in real-time to shifting trends and interests. Ultimately, the introduction of machine learning to your brand's marketing tactics will result in better products and better performance.
Implementation of machine learning could be the next major step in your brand's growth. To learn more and see how Bluetext can partner with you in that growth, contact us.
Have you ever navigated to a new website with a question, and spent too much time hunting for an answer? While companies spend large amounts of time developing and building out an information architecture for their user journeys, they may not always have the use case of each unique user in mind. To be fair, they aren't mind readers! There are times when consumers may simply need to be guided to exactly what they're looking for – and there is no better way to ensure that than with a chat experience integrated on your site. 
As consumer behavior changes over time, it is important to be able to meet your user and provide a user experience that matches what they have become accustomed to. In the same way that it has become the norm to order a pizza online instead of calling into your neighborhood spot, the prevalence of 24/7 support and availability should be captured in the online experience.
With younger generations, in particular, an instant messaging option is a preferred way to communicate, and if companies can make it easier for their customers to get what they are looking for through a chatbot, this will pay off. A recent study found that up to 68% of respondents indicated that they are more likely to use a business that offers convenient communications if they have the option to choose where to make a purchase.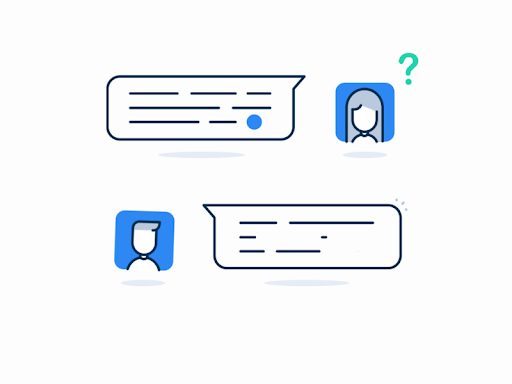 A seamless integration for a chat experience where a bot or a real person responds in real-time is critical. It can be extremely frustrating when users are waiting around for something that should warrant a quick response. Ever been stuck on the phone waiting for hours to get past automated messaging machines to ask a question? It's incredibly frustrating and more often than not people get impatient and hang up. Online inquiries are no different, if you leave a user aimlessly browsing on their own and unsuccessful in finding their answer they will get impatient and bounce from your site. Installing an automated chatbot gives users a clear destination for their questions, and avoids the dead-end drop-off. While chatbots may not be real people, it gives users the illusion of a more personal experience and grows brand trust that your company is willing to solve their problems. Convenience is key in today's society, and online browsing is no exception.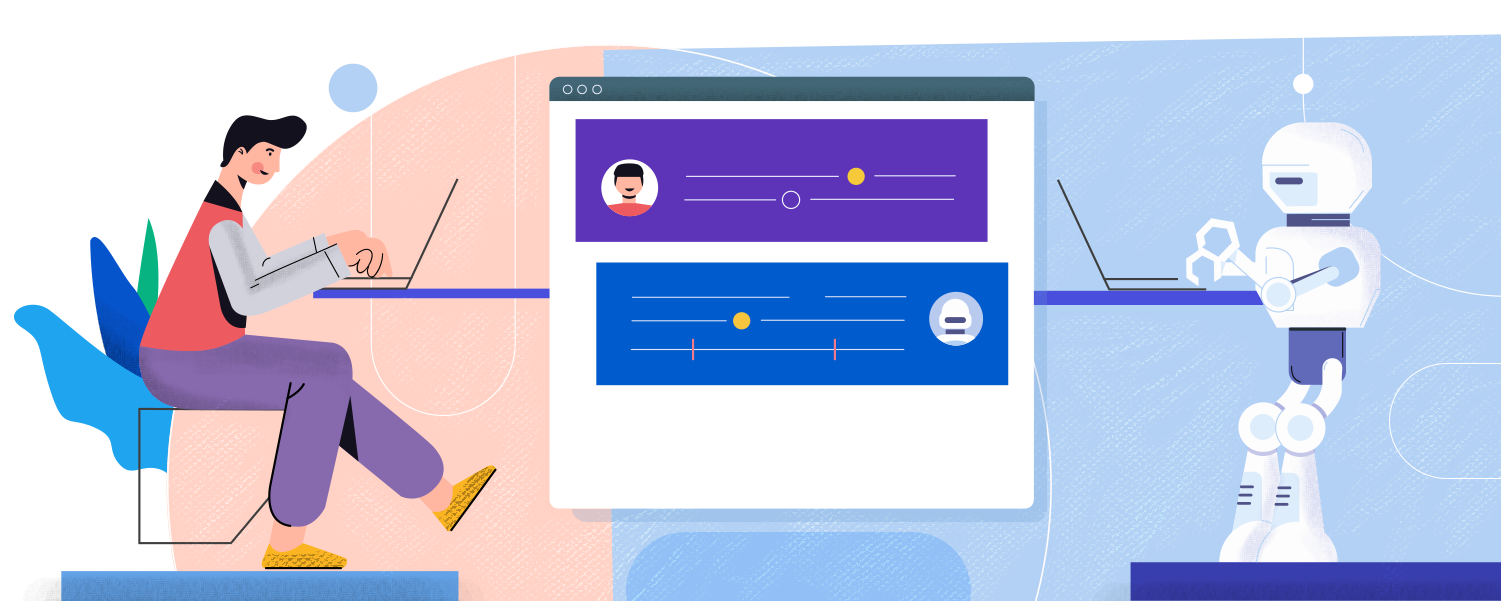 Online chatbots sound great in theory but can seem intimidating to execute. However, with the assistance of a website design and development agency, such as Bluetext, you can integrate a chat service into your current or new website design. The advantage of working with a full-service digital marketing agency is that they can analyze your search traffic patterns, help identify some common user journeys and pain points, but also style and develop a chatbot fit to your brand identity. This creates an even more seamless user experience on your site because the chatbot integrates and matches the current website, almost like a well-dressed store employee ready and able to answer any questions.  
Is it time for your website to step up its support game? Consult Bluetext to find out what kind of chatbot or user experience modifications can improve your website. 
As marketing professionals improve at optimizing their advertising campaigns around personalized messaging and graphics for target audiences, a "Time Machine" strategy of targeting prospects will become more prominent in 2019.
What's a Time Machine for marketing? It's a new approach to targeting the best prospects based on what they might have done – or attended – in the past.
Tracking behavior via AI and advanced analytics of individuals who have attended an event in the past and targeting them for digital outreach offers a new avenue of personalized digital marketing. In one recent example, Bluetext identified everyone who has gone to see a sports team over the past year, with the intent of serving up ads for with offers to buy season tickets or branded merchandise. Only recently have the data analytics and AI been available that could identify who attended a game over the past year. That's why we call it "Time Machine" technology.

Yet, Time Machine strategies don't stop at just attendance. Personalization also means setting up a whole system of user personas, messages for each persona, and specific creative that will appeal to them. Then, if prospect (A) performs action (B), they receive item (C); while prospect (X) performing acting (B) will result in them receiving item (Z). So while two individual prospects may have both gone to the same game, getting them to buy the tickets for next season may require different messages to push them over the finish line. Tracking behavior via artificial intelligence and targeting audiences for digital outreach is just one of the ways that a "Time Machine" strategy leverages deep data as a new avenue of personalized digital marketing.
Personalization is powerful because it solves the problem of relevance. Traditionally, ads were targeted at mass audiences, meaning that the vast majority of impressions were useless because they were not relevant to the viewer. A Time Machine strategy, paired with a robust personalization system, means that you can deliver more relevant ads and, in turn, have a better chance of converting more prospects.
At the end of the day, a Time Machine strategy is all about increasing relevance by matching an individual's past behavior with a message and/or creative that compels them to repeat that behavior. Your brand's value proposition, communicated in the prospect's language, matching their expectations, and addressing their unique needs and desires, will be more meaningful with a Time Machine strategy.
Move aside, Don Draper. Artificial intelligence (AI) is moving in. Compelling creative and hard-hitting headlines aimed at the general masses are only a fraction of the modern marketer's job description. With reams of data about millions of online consumers at their disposal, marketing professionals today more closely resemble a nerdy math geek, a spreadsheet in hand, than the smooth-talking Mad Men of old. In 2019, they're more effective, too.

AI makes marketing smarter and more effective. That's thanks to the advent of Artificial Intelligence in digital marketing. Although AI has been around the industry for some years, the power of AI to deliver personalized, relevant, and timely ads to an individual online is only growing stronger, and marketers are growing savvier with their new tools. By employing multivariate testing methods in advertising, marketers can test all of the traditional elements of an ad campaign – imagery, headlines, Call-to-Actions (CTAs), and color – and add the mountain of consumer data into an AI engine that will deliver the right ad to the right person at the right time in the right place. Rudimentary tests will optimize around single ads that perform the best to a broad audience. The best Mad Men of 2019 will use multivariate testing to serve unique combinations of each variable in a single ad for a single category of user. AI is here.
Artificial intelligence is offering a powerful new tool to digital marketers, who can use the capabilities of AI to both test and modify how marketing campaigns are delivered to target audiences in a far more personalized way. Before the advent of AI, the testing of banner ads or email campaigns would have been limited to A/B variables, such as subject lines for email or headlines for digital banners. Fancy experiments could also test different graphics, but it typically would be limited to two or three versions at most.
No more 'spray and pray'. Appeal to individual consumers in 2019. With AI, marketers can now test a wide variety of media attributes, including colors, font, calls-to-action, and background image specific to an individual consumer. AI can assess that person's past preferences to predict what will have the most impact. That opens up much greater opportunities with retargeting. Not only can the ad display the same product that the consumer was considering from the day before, but it can also suggest, as just one example, the angle of the image that would be the most appealing to that consumer.
The brains of AI, of course, are its algorithms. While AI software may vary in their algorithm, all deliver modern marketers with the unprecedented ability to make real-time calculations about advertisement opportunities. Known as Moment Scoring, AI can determine the likelihood that a digital consumer will engage with an ad and make the desired action based on the goals of the marketing campaign. More than just delivering ads in the moment, AI in 2019 is more cost-efficient by predicting what marketing actions to take in which moments, thereby optimizing your campaign's spend toward those users that are most likely to convert from prospect to customer.
If you're not using AI, you're already losing. According to a report by eMarketer, advertisers around the world have caught on to the power of AI for their marketing campaigns. Nearly 40% of advertisers surveyed indicated that they already use AI's media spend optimization tactics to make their campaigns more cost effective, with another 31% indicating that they plan to use that tactic. Dynamic creative – ads that change automatically based on the AI's information about an individual user's behavior, location, and interests – is already employed by 42% of respondents and is planned to be used by an additional 27% of those surveyed. All of this is to say, if you're not yet incorporating the power of artificial intelligence into your digital marketing efforts, you're already losing to the competition.
For a digital marketing campaign that optimizes your budget and delivers results thanks in part to the powerful tools of Artificial Intelligence, partner with Bluetext.
Dynamic content may be the next big thing for digital marketers. In the marketing world, as personalization becomes more in demand, the power of artificial intelligence and data analytics to deliver personalization through dynamic content generation is taking on a larger role. That artificial intelligence is taking the guesswork out of marketing. No longer do digital marketers need to "hope" that, for example, a blue-themed campaign landing page with lots of large images or a certain type of blog post will appeal to all audiences. Artificial intelligence can provide real insights on messaging, graphics, color schemes, and even the types of content that marketers push out to target audiences.

This evolution may be closer than you think. In fact, according to eMarketer, forty percent of marketers in a recent survey responded that they were currently using AI to fuel their dynamic creative. That number was consistent with audience targeting and segmentation, creating a clear path to real personalization. This tactic has given advertisers the unparalleled ability to know their audience through identification, segmentation, and targeting.
Because various types of testing can be done now thanks to AI, marketers are able to find the optimal way to target a particular consumer. This includes elements such as colors, fonts, call to actions and images. Targeted advertisements not only serve a consumer the product they were looking at in the days or weeks before but in a way that would be most appealing to him or her, increasing the likelihood of engagement.
Beyond customizing the content that users are served, consumers are increasingly interested in curating their online experiences as well. That helps explain the endless number of social media platforms available to us.
We recently worked with the cognac company, Courvoisier, to launch their Honor Your Code campaign microsite which truly defines what we mean by "user-generated content." The site encourages users to create a meme by uploading a photo, adding their hometown, and choosing a "code" that they respect and honor. Memes are then shared to social media, and ingested into the CMS by an Instagram API to display in a scrolling mosaic grid. Users are also able to explore the "Heatmap" by clicking on cities across the country to view other codes being shared and possibly even their own.
The Honor Your Code site on mobile provides for a unique user journey with more of a "native social" experience. Videos and Instagram posts display in a scrolling, digestible way users have become accustomed to. The site also features age authentication and a product locator.
It's no question that people love personalized content. According to Janrain, 74 percent of online consumers get frustrated when content on the websites they visit has nothing to do with their interests. It's clear that generating dynamic content for your audience is vital to a brand nowadays, so why not take a deeper dive into each individual's profile to better understand what will work with that specific target audience? It is much more effective to serve content types and styles that the individual responds to instead of a blanket assumption of one-size-fits-all.